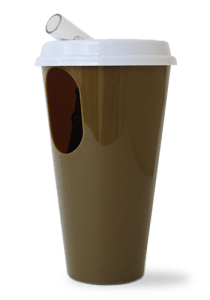 A car breathalyzer or ignition interlock device isn't a standard feature in any person's vehicle, it is a consequence of a drunk driving conviction. Part of the punishment for putting lives at risk does involve a bit of embarrassment or frustration, which is an additional "benefit" to keeping that driver sober behind the wheel. Since there are few people who look forward to an ignition interlock, someone who uses the device or sees it being used will hopefully think twice about that "one for the road" in the future.
Still, ignition interlock devices and car breathalyzers aren't large devices. They don't stand out unless someone is really looking at the driver using the interlock, or at the dashboard of the vehicle. They are discreet, which helps a DUI offender get the test done quickly, and with as little "rubbernecking" as possible by onlookers or other drivers. A discreet ignition interlock device is attached in a way that it can usually only be seen during the testing process, and even then, there are ways to cover up the device and still submit a breath sample each time the vehicle is started and during the rolling re-tests. The last thing a DUI offender should be worried about is how other people view their interlock, but, there are discreet ways to maintain some privacy.
Of course, there is no substitution for drinking responsibly and having an alternative way to get home after a night out. When you are sober behind the wheel, there is no need for a discreet ignition interlock, plus, you don't have to face a judge, pay fines or perform community service. You keep others' lives in mind, not only your need to avoid an interlock, each time you have a safe ride home. Once you make that choice, there's not a worry in the world about how to find a discreet ignition interlock or car breathalyzer.