Car Breathalyzer Devices, also called Ignition Interlock Devices (IID), are a small device that is about the size of a cell phone. The device is connected to your vehicle's ignition system. You can find your local ignition interlock installer below.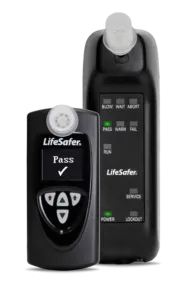 Information on laws, installation locations, and recovering your license after an Alaska DUI
Alaska has both administrative and criminal licensing sanctions after you are arrested for a DUI. You will have to attend to both to drive legally. A full explanation of the administrative license suspension and the criminal license suspension in Alaska can be found here.
Alaska ignition interlock (IID) laws require that any driver convicted of driving under the influence (DUI) must install an IID, including an electronic log device, on every vehicle they own or which is registered to them. 1st offenders may be eligible for a limited license with an ignition interlock after 30 days; 2nd and subsequent offenders after 90 days. Offenders with a blood alcohol concentration (BAC) of .16 or higher require an ignition interlock for six months minimum after the suspension period. During the suspension, you may not operate a motor vehicle unless it is equipped with a certified ignition interlock device. You must pay all costs associated with the installation and maintenance of the IID.
The court may order the screening, evaluation, referral, and program requirements of an alcohol safety action program as a condition of probation or parole. In addition to fines, $300 in court costs must be paid. Community service work can be mandated in place of or in addition to imprisonment.
Note: These penalties are for non-felony DUI convictions. Penalties for felony DUI convictions are more severe.
Alaska Ignition Interlock Resources
AK DMV: http://doa.alaska.gov/dmv/
Alaska Limited License Information: http://doa.alaska.gov/dmv/akol/limited_license.htm
Alaska Driver License Tracking: https://online.dmv.alaska.gov/TrackMyCards/
Single-State Step
If you were convicted in court, complete an Alcohol Safety Action Program (ASAP).
Complete the application for reinstatement here. Pass the written and vision tests. You may also need to take a road test.
Pay the reinstatement and license fees.
Provide all necessary documents, including proof of SR-22 Insurance, birth and identify documents, proof of interlock installation, and the reinstatement form.
All limited licenses are issued by the Anchorage Driver Services office. Your local DMV office can provide assistance with documenting the vision, knowledge, and road test requirements, but cannot issue the limited license. Once you have met all requirements the remaining documents requested by the DMV may be submitted electronically to [email protected], by fax to 907-269-3774, or by mail.
How much does a breathalyzer cost in Alaska?
Nationally, an ignition interlock (IID) is about $3 per day, which is also the case in Alaska. Find a simple-to-use interlock device that is tested and calibrated for accuracy before ever going out the door. All you do is blow, then go – knowing your device is going to work when you need it to (like on a cold Alaska morning).
Every situation and state is unique, please consult with your attorney or your state licensing authority to confirm your requirements and obligations.
The information provided on this website does not, and is not intended to, constitute legal advice; instead, all information, content, and materials available on this site are for general informational purposes only. Information on this website may not constitute the most up-to-date legal or other information. This website contains links to other third-party websites for the convenience of our readers. Links from Car Breathalyzer Help to other sites, or from other sites to the Car Breathalyzer Help, do not constitute an endorsement by Car Breathalyzer Help.