Car Breathalyzer Devices, also called Ignition Interlock Devices (IID), are a small device that is about the size of a cell phone. The device is connected to your vehicle's ignition system. You can find your local ignition interlock installer below.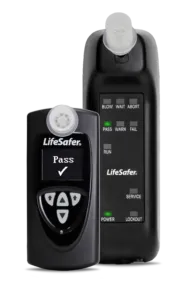 Information on South Carolina's DUI and Ignition Interlock Laws
When you are arrested for a DUI in South Carolina, your license can be suspended in two different ways:
Administrative: This only happens if you fail a breath test, or refuse to take one. Your license will be suspended or revoked immediately.
Judicial: This occurs when you are sentenced by a court after a trial or plea agreement.
When you are arrested for a DUI in South Carolina, the officer on the scene will issue you a temporary license which allows you to drive for 10 days in order to get your affairs in order. You can challenge your case during this time. If you do not, or if your challenge is unsuccessful, your license will be suspended on the 11th day for six months. After your suspension, you will receive a restricted license, which will allow you to drive to certain approved locations.
Ignition interlock devices are mandatory for all drivers convicted of SC DUI offenses. You may also be able to install an ignition interlock device in lieu of administrative suspension. An alcohol and drug safety action program are mandatory after a DUI conviction.
In South Carolina, the severity of your judicial sentence depends on your blood alcohol concentration (BAC) at the time of the arrest and the state has three BAC measurements. Like most states, it is against the law to drive with a BAC level over .08. If your BAC level is between .10 and .16, your penalties are more severe, and a BAC of .16 or higher results in the strictest penalties. A 4th DUI offense is a felony in South Carolina.
Visit the SC Department of Public Safety for more information.
How much does an interlock cost in South Carolina?
An ignition interlock (IID) will cost about the national average of $3 per day in the palmetto state. Everybody wants a great deal, but remember that there's more that goes into a successful program than a cheap blow and go device. You will need a quality, tested device, proper installation, and the help of competent customer service.
A good car breathalyzer is a precision tool. LifeSafer IIDs are carefully calibrated and tested before ever going to your local South Carolina installation center. From there, our highly skilled technicians will install your interlock with precision thanks to continuous training to stay ahead of the latest techniques. But if you have questions, our pro customer service representatives and reporting specialists are just a phone call away.
We know the stakes are high we want your program to go smoothly. That's why we are so dedicated to providing helpful support staff, first-rate installation, and the best devices in the industry. By choosing LifeSafer, you are setting yourself up for success!
South Carolina Ignition Interlock Resources
South Carolina DMV Reinstatement Check: http://www.scdmvonline.com/Driver-Services/Reinstatement%20L
South Carolina DUI Treatment Services:
https://www.daodas.sc.gov/treatment/dui-intervention-services/
South Carolina IID Program Information:
https://www.dppps.sc.gov/Ignition-Interlock
State Steps
When you become eligible for South Carolina's Ignition Interlock Device Program (IIDP), you will be notified by the IIDP system letter.
Call LifeSafer Ignition Interlock at 800-634-3077 to schedule your ignition interlock installation. Ask about discounts and special offers!

Bring your South Carolina state-issued photo identification card to your installation appointment.

Follow all the requirements for an "II" restricted license from the SCDMV, including completing the Alcohol and Drug Safety Action Program (ADSAP), and paying any associated fines and fees.
Program time begins after the "II" license is issued.
Every situation and state is unique, please consult with your attorney or your state licensing authority to confirm your requirements and obligations.
The information provided on this website does not, and is not intended to, constitute legal advice; instead, all information, content, and materials available on this site are for general informational purposes only. Information on this website may not constitute the most up-to-date legal or other information. This website contains links to other third-party websites for the convenience of our readers. Links from Car Breathalyzer Help to other sites, or from other sites to the Car Breathalyzer Help, do not constitute an endorsement by Car Breathalyzer Help.