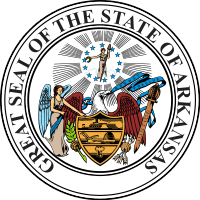 Despite DUI felonies and mandatory ignition interlock installation for all convicted drunk drivers, Arkansas had 156 drunk driving-related fatalities in 2011, according to Mothers Against Drunk Driving (MADD). Drunk driving fatalities made up 28 percent of total traffic deaths that year. Though the state saw a decrease in DUI fatalities from the year before, Arkansas had over 34,000 third-time offenders and over 14,000 fifth-time offenders in 2011. MADD reports that the state's interlock law is full of loopholes that can allow drunk driving offenders to opt out of interlock installation.
DUI Laws
Anyone who operates a vehicle with a blood alcohol concentration (BAC) of 0.08 or higher is guilty of driving while intoxicated (DWI). An offense is considered a repeat offense if it occurred within five years. Four or more DWI convictions within 5 years is a felony.Consequences include a fine, jail time or community service, driver's license suspension, and successful completion of an alcohol treatment or education program.
1st Conviction: $150-$1,000 fine; 24 hours to 1 year in jail; 6-month license suspension
2nd Conviction: $400-$3,000 fine; 7 days to 1 year in jail or at least 30 days of community service; 1-year license suspension
3rd Conviction: $900-$5,000 fine; 90 days to 1 year in jail or at least 90 days of community service; 30-month license suspension
4th Conviction: $900-$5,000 fine; 1 to 6 years in jail or at least 1 year of community service; 4-year license suspension
5th and Subsequent Convictions: $900-$5,000 fine; 2 to 10 years in jail or at least 2 years of community service; 4-year license suspension
Jail times increase if the drunk driver committed the offense while a child under the age of 16 was in the vehicle.
The legal limit for drivers under the age of 21 is 0.02. Consequences include a fine of $100 to $500, 90-day license suspension, community service, and participation in an alcohol and driving education program after a first offense. Consequences increase with second and subsequent offenses.
Ignition Interlock Law
All convicted drunk drivers are required to install an ignition interlock for up to 1 year to receive restricted driving privileges after the license suspension period ends. First-, second-, and third-time drunk driving offenders can reduce the license suspension period to 45 days before receiving restricted driving privileges by installing an ignition interlock device sooner, if the Office of Driver Services allows. However, driving destinations are limited to work, school, alcohol safety education and treatment course, and an ignition interlock service.