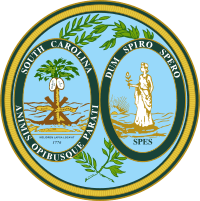 South Carolina has one of the highest drunk driving fatality rates in the nation, according to Mothers Against Drunk Driving (MADD). In 2011 alone, the state had 314 drunk driving-related fatalities, which accounted for 38 percent of total traffic deaths that year. Repeat offenses are also a problem, despite a 2009 legislation that requires all repeat offenders to install an ignition interlock in their vehicles. The state had 14,148 third-time offenses in 2011 alone. MADD continuously encourages South Carolina to reverse their high drunk driving fatality trend by expanding the interlock law to include all drunk driving offenders.
DUI Laws
Anyone who operates a vehicle with a blood alcohol content (BAC) of 0.08 or higher in South Carolina is guilty of driving under the influence (DUI). The offense is punishable by a fine, jail time, driver's license suspension, and enrollment in and successful completion of an Alcohol and Drug Safety Action Program:
1st Offense: $400 fine or 48 hours to 30 days in jail; 6-month license suspension
2nd Offense: $2,100-$5,100 fine; 5 days to 1 year in jail; 1-year license suspension
3rd Offense: $3,800-$6,300 fine; 60 days to 3 years in jail; 2-year license suspension
4th or Subsequent Offenses: 1 to 5 years in jail; license revocation (may petition for reinstatement after 7 years)
Consequences for all offenses increase with a BAC of at least 0.10 but less than 0.16 and again with a BAC of 0.16 or higher.
A DUI offense is elevated to a felony offense if the drunk driving offense resulted in the death or serious bodily injury of another person. A felony DUI is punishable by a fine of $5,100 to $10,100 and 30 days to 15 years in jail if another person was severely injured and a fine of $10,100 to $25,100 and 1 to 25 years in jail if another person was killed.
South Carolina also has a DUI child endangerment law that increases the consequences of DUI if a drunk driver committed the offense with one or more passengers under the age of 16 in the vehicle.
Ignition Interlock Laws
All repeat DUI offenders must install an ignition interlock device in their vehicles in order to receive limited driving privileges after their license suspension period ends. The amount of time offenders must keep the device installed depends on previous offenses:
2nd Offense: 2 years
3rd Offense: 3 years
4th or Subsequent Offenses: Permanent installation