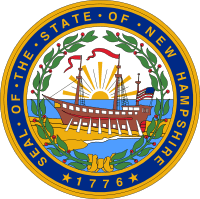 From sobriety checkpoints and felony DUIs to mandatory alcohol assessment and treatment for all convicted drunk drivers, New Hampshire is tough on drunk driving offenders. With only 27 drunk driving-related fatalities in 2011, a 40% decrease from the year before, as reported by Mothers Against Drunk Driving (MADD), the small state must be doing something right. However, the state could improve their drunk driving laws and reduce drunk driving-related injuries and fatalities by expanding their ignition interlock law to include all drunk drivers, a goal MADD is currently working toward.
DUI Laws
Anyone who operates a vehicle with a blood alcohol concentration (BAC) of 0.08 or higher in New Hampshire is charged with driving under the influence (DUI). The legal limit for drivers under the age of 21 is 0.02. Consequences include a fine, jail time, driver's license revocation, and participation in an alcohol screening/evaluation and, if needed, treatment, education, and recovery. Offenses are considered repeat offenses if they occur within 10 years of a prior conviction.
1st Offense: $500 fine (minimum); 9-month to 2-year license revocation
2nd Offense: $750 fine (minimum); 5 to 17 days in jail; 3-year license revocation
3rd Offense: 30 to 180 days in jail; permanent license revocation (can petition for reinstatement after 5 years)
Fourth and subsequent offenses are felonies punishable by the consequences listed above. However, offenders who have been convicted four or more times cannot petition for license reinstatement for 7 years.
A DUI is elevated to an aggravated DUI if the offender's BAC was 0.16 or higher or if he or she committed the offense while a passenger under the age of 16 was in the vehicle. Consequences increase to a $750 fine (minimum), 5 to 17 days in jail, 18-month to 2-year license revocation, and ignition interlock installation.
If the offense resulted in the serious bodily injury of another person, the DUI is elevated to a felony, punishable by a fine of at least $1,000, 14 to 35 days in jail, interlock installation, and 18-month to 2-year license revocation.
Ignition Interlock Laws
First-time offenders with a BAC of 0.16 or higher, any offender convicted of aggravated DUI, and all repeat offenders are required to install an ignition interlock in all of their vehicles. Offenders must keep the device installed for 12 months to 2 years.