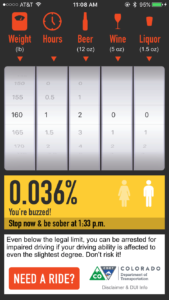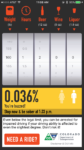 Drinking and driving are two words that should never go together, yet the entire country still has a problem with drunk driving. That's why each year, we see states like Colorado step up their DUI game by using technology and other new resources. Ignition interlock devices (IIDs) are a part of that, but before an IID is even an option, check out the Colorado Department of Transportation (CDOT) smartphone app that gives you the answer to your most pressing "am I too drunk to drive" question by calculating your Colorado BAC (blood alcohol concentration for you.
If you're wondering if you're safe to drive, use CDOT's R-U-Buzzed app on your smartphone. The amount of alcohol in your system, measured by your BAC, doesn't always depend on the number of drinks you have. The time elapsed since drinking, your body size, and genetics also play a big role on your level of intoxication. The R-U-Buzzed app prompts users to answer questions, creating a personalized time estimate to determine your Colorado BAC when you will be sober–and safe to drive.
The CDOT app also has a super cool "Need a Ride?" feature that connects users to local ride services, such as Uber, Lyft, z-Trip, and Curb, to take you where you need to be if you're still buzzed.
Colorado BAC laws explain:
If you have a BAC of 0.08 percent, you can be arrested for a DUI (Driving Under the Influence).

Even if your BAC isn't 0.08 percent, you can be arrested with a DWAI (Driving While Ability Impaired). Most commonly, this is charged at a BAC of 0.05 percent.
If your judgment is impaired from drinking or other drugs in Colorado, it's always best to play it safe by waiting it out or finding an alternative option when it's time to drive.
Downloadable for free on iTunes and the Google Play Store, the R-U-Buzzed app is a great tool to check to see if you're clear to get on the road before it's too late.