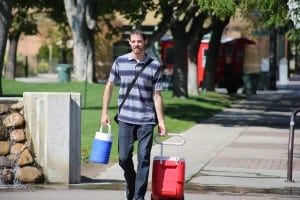 As a country full of drivers, we know one of the biggest dangers on the road are those who are under the influence of alcohol. When we see a car weaving, we stay out of the way and safely alert the police about our suspicions. We also make sure that we allow pedestrians and cyclists the "right of way" at all times, remaining aware of our surroundings and keeping everyone safe. But, a person who is driving under the influence of alcohol or drugs isn't as vigilant about the safety of others, and it isn't just other drivers on the road who are affected, those same pedestrians and cyclists are often victims of "hit-and-run" accidents, too.
It is obvious how much danger drunk drivers pose for a person in a crosswalk or just waiting to cross the road. Drunk drivers are often apprehended after a vehicle accident, but, when they are the cause of a pedestrian hit-and-run accident, the "run" can give those drunk drivers enough time to sober up before having any blood alcohol concentration (BAC) tests run, eliminating many consequences for their actions.  The person who was injured by the drunk driver isn't nearly that lucky.
Common drunk driving penalties include court costs and fines, substance abuse evaluations and treatment, and car breathalyzer or ignition interlock requirements. But, we need to remember that drunk driving is dangerous and can be deadly, no matter the consequences. Not every victim of a DUI accident has the protection of a vehicle with seat belts and air bags; some victims are simply out for an evening walk without a buffer zone. The damage we can cause after "one for the road" changes lives forever, and remembering that it isn't just other drivers, but, every person on and near the road that needs the safety of sober drivers.