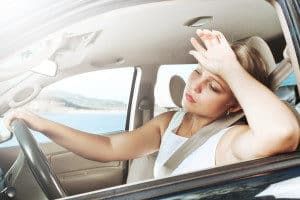 During a traffic stop in Florida, if you're slurring your speech or you smell like alcohol, you're most likely going to be investigated for drunk driving. You can try to hide it, but chances are you'll be caught, like this man who was arrested for a Florida DUI. Just as a reminder: lying about a medical condition won't help you in this case.
You may be arrested for a Florida DUI even if you don't blow into a breathalyzer.
When an officer is trying to see whether or not you need to be arrested for a DUI, and you're already displaying those two hard-to-hide warning signs: your smell and speech.  You'll be asked to take a breathalyzer test if you are suspected of drunk driving, just based on those factors. Of course, you have the option to refuse the breathalyzer, but this could lead to a "violation of implied consent," and further administrative consequences. Plus, Florida DUI law says you can be arrested because you've given the officer reason to believe that you've been violating the law (e.g. smelling like alcohol, or slurring your speech). At that point, you might as well take the breathalyzer.
Remember that if you are guilty of a Florida DUI or refuse the breathalyzer, you'll likely have an ignition interlock requirement in your future.
Of course, you always have other choices. Asking someone else to drive you home (only if they're sober) is a safe bet. Calling a taxi or a rideshare service like Uber or planning a sleepover if you're at a friend's house are all excellent choices, too. Sleeping on the couch is much more comfortable than awkwardly explaining to an officer or judge why you decided to drink and drive, why you smell like a brewery or can't seem to pronounce your own name accurately. That way when you wake up the next morning, all you need to worry about is what's for breakfast, not why you have a court date for a DUI.