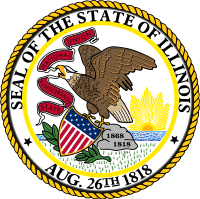 The grace period for Illinois's 5-month-old ban on handheld cellphone usage while driving came to an end last week. That means that drivers in the state can expect to get a ticket instead of a warning if caught using their cellphone while driving.
The handheld cellphone ban, which was passed last year and went into effect on January 1, 2014, prohibits drivers from manually operating their cell phone or other electronic communication device while driving. The ban does not include GPS or other navigation systems. Other exceptions to the ban include hands-free devices. For example, drivers can make calls using voice command and talk on the phone using Bluetooth and similar devices. Drivers are also allowed to use their devices by hand if they are making an emergency call or are parked on the shoulder of a roadway.
Since the law went into effect, law enforcement officials have given drivers a nearly six-month grace period in which they issued more warnings than citations for the traffic violation to give drivers some time to learn and understand the new law. Now that the grace period is over, police officers will only issue tickets to drivers who violate the cellphone ban. Distracted drivers will face a $75 fine for a first offense, a $100 fine for a second offense, a $125 fine for a third offense, and a $150 fine for a fourth or subsequent offense.
In addition to a cellphone ban, another distracted driving law took effect on January 1. The second law increases the consequences for distracted drivers who cause a traffic crash in which someone is killed or injured. If the crash results in the injury of another person, the distracted driver will face up to one year in prison. Distracted drivers who cause a fatal crash will face one to three years in prison. As far as we know, there has not been a grace period for this second distracted driving law.
Governor Pat Quinn, whose top priority is to improve traffic safety in the state, and the creators and sponsors of the newly enacted laws hope the new distracted driving laws will create safer roads throughout Illinois and reduce serious and fatal crashes caused by cellphone use.