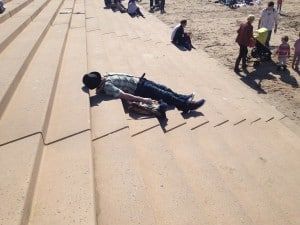 There are always the "do's and don'ts" in legal situations, but, we leave it to Florida to best illustrate how important it is to stay on the right side of the law. Of course, we would like to believe that all of the "A Florida Man…" headlines would be enough to remind residents that maybe there are some problems with drinking and driving in the Sunshine State. But, obviously, when you ask to kiss an officer's feet after you've been arrested for your second DUI before even being in court for the first DUI… Well, the spotlight is all yours.
It is true, according to reports, that a man in a Maseradi was found resting a Toyota on the hood of his car. He was also seen hitting a pole and a few other incidentals, prior to that final vehicular embrace. And, he did apologize after his arrest, and humbly offered to "kiss and make up" with the arresting officer. But, on the other hand of habitual DUI offenses (allegedly), there's the irony: a car breathalyzer or ignition interlock could have prevented this second DUI, had this man been before a judge prior to driving his car while under the influence of alcohol. Since his first DUI charge occurred in 2013, it is unclear if he had the ignition interlock requirement (mandatory for certain first-time DUI offenses, only) and he was well past the administrative license revocation (ALR) period for the state.  What is clear is the danger he poses to others on the road, and no amount of kissing feet will change that.
Florida headlines can give us a giggle or make us shake our heads in disbelief, but, the stories are very similar across the U.S. This man serves as one of the best examples of why ignition interlock devices are vital to the safety of our roads, and the rehabilitation of those who cannot seem to make the choice to only drive sober.