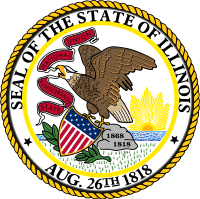 The state of Illinois takes pride in its tough DUI laws, which left 92 percent of arrested drunk drivers without a driver's license in 2011. Despite a high number of re-offenders over the past year – 49,527 third-time offenders and 5,659 five-time offenders – the state's all-offender ignition interlock law has helped reduce the number of drunk driving deaths by at least 22 percent since it was enacted in 2009, according to Mothers Against Drunk Driving. Illinois is also known for its tough underage DUI law, a Zero Tolerance policy that left 1,338 drivers under the age of 21 without a driver's license in 2011.
DUI Laws
The legal limit for a DUI violation in Illinois is a blood alcohol concentration (BAC) of 0.08 or higher. Consequences vary depending on the driver's age and BAC, previous DUI convictions, and whether or not a child under the age of 16 was in the vehicle. For example, a first conviction is punishable by a maximum fine of $2,500, possible jail time for up to one year, and additional consequences based on the following circumstances:
BAC of 0.16 or more – minimum fine of $500; at least 100 hours of community service
Transporting a child – Up to 6 months in jail; minimum fine of $1,000; 25 days community service that benefits children
Injury of the child – $2,500 fine and 25 days of community service that benefits children
Jail times, fines, and other consequences increase with each conviction. For second, third, fourth, fifth, and sixth and subsequent conviction consequences, view the 2013 Illinois DUI Factbook.
Zero Tolerance Law
The legal limit for drivers under the age of 21 is 0.00, which means that the driver can be arrested for DUI if a breathalyzer or blood test detects any trace of alcohol in his or her system. Consequences include loss of driving privileges, a fine, and possible jail time. All amounts depend on previous DUI convictions and whether or not the driver caused a crash resulting in injury to another person. For exact sentencing, visit the Illionois State Police website.
Driver's License Suspension
In addition to an automatic driver's license suspension after being arrested for DUI, the driver's license of a convicted drunk driver is revoked for at least one year at the minimum (first conviction) or permanently at the most (fourth and subsequent convictions).
Ignition Interlock Laws
All first-time DUI offenders are required to install an ignition interlock device (IID) in their vehicle in order to obtain their driver's license when eligible for driving relief during their suspension period. All repeat offenders are also required to install an IID, though circumstances for and length of installation may vary.