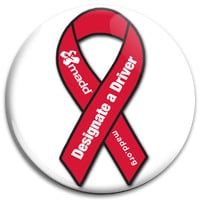 In days past, the phrase "tie one on" was just another term for drinking too much. But, today, when we "tie one on," we are supporting one of the most beneficial organizations in the fight against drunk drivers: Mothers Against Drunk Driving.
Mothers Against Drunk Driving (MADD) has been changing lives for the better since 1980. Since 1986, the organization has held red ribbon campaigns throughout the holiday season in order to increase awareness of the dangers of drunk driving. When we "tie one on" for MADD, we are showing support for public safety, including laws that require ignition interlock devices, sobriety checkpoints and stricter consequences for drunk drivers.
When you "tie one on" for MADD, you visibly display a red ribbon on your vehicle (or Facebook wall) that reminds others to remain sober when driving, or to plan on a designated driver to get home safely during the holiday season, and throughout the year. The ribbons also encourage you to serve "mocktails" at your holiday party and/or provide a safe ride home for anyone who is too intoxicated to drive.
MADD's annual red ribbon campaign runs from Thanksgiving through the New Year, two of the most dangerous times of the year for drunk driving to occur, but, the commitment to safe roads doesn't end on January 2. MADD continually lobbies and campaigns for legal changes in all 50 U.S. states, encouraging lawmakers to examine current policies, close legal loopholes that can affect justice for victims of drunk drivers, implement ignition interlock programs and more.
With over 300,000 lives saved by MADD since its beginning, this organization is changing our lives for the better. Remember that when you "tie one on" this holiday season, let it be the red ribbon that shows your support for MADD in eliminating drunk drivers on the road. Your family, friends and loved ones will be grateful that you cared enough to remain sober behind the wheel.