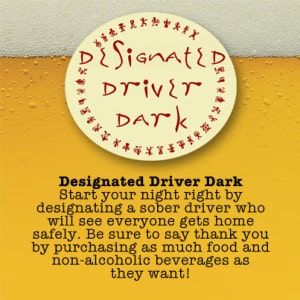 It's not unusual to see a city have its own line of lagers, IPAs or other microbrews. In fact, it is probably more unusual for a city to pass on the chance to name a beer after a local hot spot, celebrity or historical monument. Detroit, Michigan is no stranger to trends, nor to the challenges of drunk driving, which is why the city is promoting a series of unique labels to its locals, courtesy of the Traffic Safety Brewing Company.
As the national crackdown on drunk drivers ends September 1, many states, cities and jurisdictions are taking advantage of campaigns designed to create awareness of and an affinity for driving sober. The Traffic Safety Brewing Company campaign was developed by the Michigan Office of Highway Safety Planning (OHSP) in hopes that people will see the serious nature of mixing alcohol and driving, while enjoying a few great, punny brew "labels" with friends.
The Traffic Safety Brewing Company campaign is part of a multi-agency effort in Michigan to encourage everyone to think before getting behind the wheel. Some of the brews advertised by the Traffic Safety Brewing Company include names like, "Phone a Friend Porter," "Designated Driver Dark," and, "Call a Cab Cider." In addition, each label gives friendly advice, like, "Think about connecting with someone you haven't seen in a while!" to suggest calling a friend for a sober ride home.
In Detroit and across Michigan, 150 law enforcement agencies will be encouraging safe driving practices, including seat belt enforcement and drunk driving prevention for the duration of the "Drive Sober or Get Pulled Over" national crackdown on drunk driving. In 2013, through similar efforts across Michigan, 267 motorists were arrested for DUI, and thousands of citations for seat belts and child restraints were issued.  This year's top "brews" from the Traffic Safety Brewing Company are not only quirky and fun, but, the messages can help save lives.