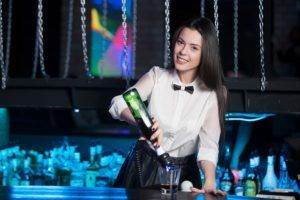 He says, she says? More like he's there, she drinks… for better or for worse! Recent findings by the world of science show that women drink more alcohol while in the presence of men. Why? Biology and social expectations, science explains. The perceived link between alcohol and sex increases a woman's alcohol intake when she is around men, either from the perspective of "getting in the mood" to "I'm going to need a drink to deal with this guy." From what we can glean, that means that the rising numbers of women with a DUI are all because of men, and in that case, the best way to avoid a DUI is to stay away from men.
Just kidding. Mostly.
Women are finding themselves in more DUI troubles than ever for a similar reason: marketing. More types of drinks, like low-calorie wine or "skinny" cocktails, are being marketed to women. Women are also more openly discussing their drinking habits, with the Internet making it a lot easier to admit to that half-a-bottle-no-a-full-bottle-of-wine evening habit.
Much like the long-ago ads that showed woman's sexy, red lips puffing on a cigarette, today's sexy bad habit is drinking. So, what's a girl to do? Stop drinking and get back in the kitchen?
No, obviously not. Women earn their right to a drink after a tough day, just as much as any man. However, women do need to be educated about drinking and what is being sold to them, wrapped up in that "sexy" bow.
On average, a woman cannot metabolize alcohol at the same rate as a man. Two drinks may not phase the dude at the bar, but that second glass of wine may make female heads spin, and not in the sexy way.
If you are only drinking "light" or "low-calorie" drinks, you are still consuming alcohol, even if at a slightly lower percentage. Skinny drinks tend to make us think we can have more than we would normally, which leads to more alcohol (and more calories, probably). Certain drink mixers (diet sodas, for example) actually increase the intoxicating effects of alcohol, too.
The answer here is not to avoid men to avoid a DUI. Just be smart. If you are drinking, listen to your body. Quit drinking while you are ahead so you can avoid the long-term effects of too much alcohol. Have a safe ride ready if you are drinking, avoiding the short-term problems alcohol often delivers. There is nothing sexy about drunk driving,