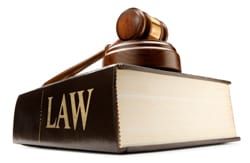 In the state of Michigan, an officer can stop you if he suspects you may be driving while intoxicated (DWI). If the officer decides he or she has probable cause for a DWI charge, they will take you to the station to confirm your blood alcohol content (BAC) and book you with the charge. After booking you must stay in jail for at least one day, after which you may be released.
Next, you will appear before a judge at an arraignment hearing in a Michigan DWI court. At the DWI court arraignment, the judge will read you a list of drunk driving related charges and ask you how you plead. You can choose to plead guilty, not guilty, or no contest to these drunk driving charges. After the DWI court arraignment there will be at least one pre-trial where the lawyers discuss the details of the case and argue over plea deals. Then there will be a motions/ evidentiary hearing where both sides will file motions to prepare for the trial. Your lawyer may file a motion to gain access to certain evidence or move to keep certain things out of the court case. After this hearing, a jury will be selected by both sides of the court. During the trial both sides will give opening statements to the court. Then both sides will present their evidence, potentially calling on witnesses in the process. Once both sides present their closing arguments, the jury deliberates and eventually decides on a verdict. From there, you will be sentenced, which may include fines, fees, substance abuse evaluation and/or treatment program, ignition interlock device and more.
While this process may be stressful, it's important to remember that life goes on. If you are convicted of a DWI in Michigan, there are many different programs and tools to help you move past your conviction. By completing all of the requirements of your DWI conviction, you can continue to live your life, and will certainly remember to always remain sober behind the wheel.