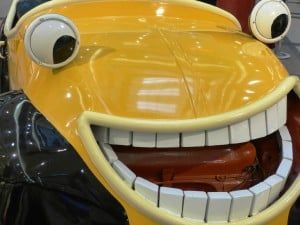 Contrary to popular belief, a first offense DWI in Texas is absolutely a big deal. Not only were you just convicted of driving while under the influence, the odds are that you succeeded in that same crime around 80 times before. We know that people make mistakes when it comes to misjudging their true level of intoxication, and most of the time, a DWI offender takes their punishment like an adult. Unfortunately, rather than facing the consequences for the DWI incident, others may choose to act like… a child.
There are reasons your license is suspended for DWI in Texas. You put lives in danger and before you can do that again, you have to show the court that you understand the risks of your actions. When you can't drive your car, your next "vehicle" shouldn't be a horse, or a tractor. Texas could consider those vehicles and you could face more trouble. Your next vehicle should not be a toy car, either, as that really shows how "sorry-not-sorry" you were for driving while intoxicated.
Let's get on the same page. A first-time DWI in Texas means that you will have to:
Serve some jail time.
Pay up to $2,000 in fines.
Use alternate transportation during your suspension period.
Possibly need a car breathalyzer or ignition interlock to restore your driver's license.
None of that means you get to drive a car, any car, until your suspension period is up.
If you make a mistake and are facing a DWI, don't make it even worse by not owning up to the serious nature of your crime. Too many people have been the victims of drunk drivers, and are looking at you to become champions for stricter penalties… not the reason for even stricter DWI consequences.