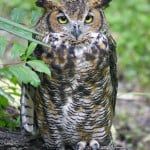 We know that Florida gives us some crazy news stories, most of which are forgotten as soon as the next "A Florida Man…" headline breaks. But, once in a while, there are stories from the Sunshine State that make us all take a harder look at the dangers of alcohol, especially when it is so obvious that drinking has led to some outrageous behavior.
A recent video was posted to Facebook showing two Florida men driving around with a great horned owl in their car is shocking on many levels. Not only is the owl clearly in danger and not enjoying its "joyride," but the men appear to have open containers of alcohol in the car while driving. Drinking and driving is bad enough, but then there's drinking while driving… and while holding an innocent animal hostage. The article goes on to explain that the owl was released the next day by the men and that they are being investigated for their actions that night.
https://www.youtube.com/watch?v=bBrGQdO6mik
Florida is one of 43 states with "open container" laws. This means that if you are stopped by law enforcement while driving and you have a bottle of alcohol that has been opened within your reach, you could face a criminal conviction that includes fines and/or jail time. If you were stopped for a suspected DUI and have open containers in your car, you could be looking at much stricter consequences, including a car breathalyzer or ignition interlock requirement.
Clearly, this video shows that a person who has been drinking is a danger to wildlife and others on the road. There are plenty of charges to be faced by the driver and passenger, and the public outrage over this Florida DUI and open container incident is clear. If you drink, keep yourself away from the streets and our endangered animals, there's no reason to put anyone or anything in harm's way because you couldn't stay sober behind the wheel.