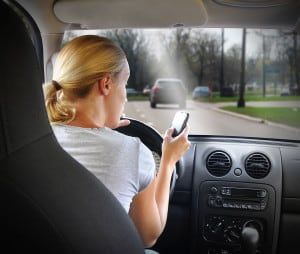 As we head into Fall, kids are returning to school, and many of them will be driving in their own cars. In preparation, many road safety organizations are raising awareness of dangerous driving behaviors among teen drivers and how to prevent them. But new survey results from Liberty Mutual Insurance and Students Against Destructive Decisions (SADD) reveal that teens aren't the only drivers we should be worried about.
The survey, which asked 1,000 parents of high school aged teen drivers about their driving behaviors, found that parents engage in the same dangerous driving behaviors that they warn their teens against. That includes driving without a seatbelt, texting while driving, and even driving under the influence of alcohol. Here's what parents confessed:
86% talk on a cell phone while driving
40% text while driving
34% drive under the influence of alcohol
21% drive without a seat belt
80% speed
Not only are parents engaging in these dangerous driving behaviors, they're doing so with their teens in the car. Of the 2,537 11th and 12th graders surveyed, 83% reported that their parents engage in the above dangerous driving behaviors while they are passengers. What's even more alarming is that 60% of teens said that they've asked their parents to stop driving dangerously, but 41% report that their parents continue to engage in these unsafe driving habits.
Raising awareness of and preventing dangerous driving behaviors among parents is important for both parents' and teens' safety. According to both Liberty Mutual and SADD, research shows that teens often mimic their parents' risky driving behaviors, which is why it's so important that parents set a good example for their kids while behind the wheel.
The two encourage parents and teens to engage in open conversations about responsible driving and sign a Parent/Teen Driving Contract that holds both parents and teens responsible for upholding family driving rules.