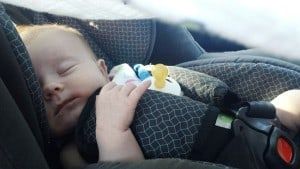 Feeding a baby can be challenging, and for breastfeeding moms, there are always uphill battles that must be faced. For instance, a mom who breastfeeds may have to be "on call" for the baby who nurses on demand, which can be inconvenient when driving… and inconvenient when drinking. But, a baby's gotta eat, and from there, "normal" situations can spin out of control, especially when you're already under the influence of alcohol.
This DUI arrest of a breastfeeding mom is a perfect storm of Florida headlines. She wasn't breastfeeding during the DUI incident, but, she wasn't sober while breastfeeding, either…and then she drove. That means:
The mom was arrested for DUI, so she had a blood alcohol concentration (BAC) above .08.
The baby was hungry, and was breastfed prior to the DUI traffic stop when alcohol was present in the mom's blood and breast milk.
The car was driven while the mom was under the influence of alcohol after breastfeeding her baby.
The breastfeeding benefit to the baby was immediately mitigated by riding in a vehicle with an intoxicated driver.  Breastfeeding may be difficult, but, staying sober while driving is easy. This mom seems to have gotten it all wrong, and now she may face a jail sentence, high fines and a car breathalyzer or ignition interlock requirement and more.
Being "on call" for a breastfeeding baby is more than just being in the same room – it means being responsible in all other areas of life that can affect the baby's health and wellbeing. Children and babies can't pick their parents any more than they can pick their driver, so it is our job to be responsible adults and remain sober when driving, breastfeeding and any other activities where the life of an innocent child could be put at risk.