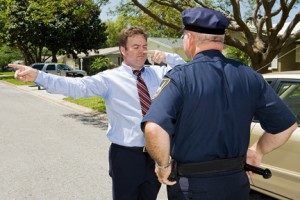 Hold onto your hats, folks. Rumor has it that Florida residents aren't taking DUI checkpoints seriously. But that's probably because Florida residents aren't taking the DUI checkpoints seriously. Perhaps it is the advice about how to roll through a Florida DUI checkpoint with a baggie of personal information. Perhaps it is just a Florida thing, where alcohol-infused, bad decisions are the new normal. For whatever reasons, almost half of those pulled over under suspicion of a DUI are refusing the police breathalyzer, and still driving just a few days later.
The National Highway Traffic Safety Administration reports that across Florida, 82 percent of those stopped by law enforcement refused the test. Despite an automatic license suspension for refusing the test, most of those accused offenders were able to qualify for a hardship license, allowing them the freedom to drive again as if the Florida DUI stop didn't happen.
At the same time, Florida just passed on ignition interlock expansion for all DUI offenders. Instead of allowing more convicted and accused Florida DUI offenders the opportunity to install an ignition interlock device in order to qualify for a hardship or other restricted license, lawmakers essentially gave permission for Florida DUI breathalyzer refusals to remain at the high 82 percent rate. Ignition interlock devices can be required by the DMV, eliminating a lengthy suspension between the time of arrest for a DUI and the time an accused offender appears in court, much like the same timeframe required for a hardship license.
Saying Florida has no refusal DUI laws doesn't have much meaning or effect when people are still out on the roads after a license suspension for possible drunk driving. To be serious about cleaning up Florida DUI problems, perhaps an understanding of how ignition interlock devices can close up the current loopholes in the laws or administrative processes is a good place to start.