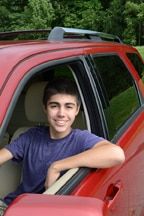 Ignition interlocks are commonly associated with a DUI, which makes sense, since the device is commonly installed as a court-ordered requirement after a DUI conviction. However, you don't have to get a DUI to install the device. In fact, many people install ignition interlocks voluntarily, whether for safety purposes or an act of responsibility in non-criminal court cases.
The leading voluntary users of ignition interlocks are teen drivers, via their parents. Whether installed as a preventative measure or the result of abused privileges, an ignition interlock is an insurance policy that guarantees your teen won't be drinking and driving. It's also a great tool for monitoring your teen's driving behavior.
Safety alone is enough to convince you to install the device in your teen's car, but convincing your teen is another story. Understanding and explaining the full benefits of ignition interlock installation to your teen might help him or her see an interlock as the helpful tool that it is rather than a punishment and ease the transition to using an interlock.
Safety. With an interlock installed in your teen's' car, you know that your teen is safe and not endangering anyone else on the road because he or she cannot drink and drive. And with safety comes peace of mind for you.
Education. If you're installing the device in your teen's car because he or she was caught drinking and driving, an ignition interlock can teach your teen to only drive when sober. If not, interlock installation can still encourage your teen to make better decisions when it comes to peer pressure, alcohol consumption, and impaired driving.
Lower insurance costs. Installing an interlock can save you money on your teen's car insurance, which can be pricey for new drivers. If your teen pays for his or her own car insurance, a reduced insurance rate just might be the selling point.
Ignition interlock isn't necessary for every teen, but most, if not all, teens can benefit from the device. If you decide to install the device in your teen's car, expect your teen to protest. Be prepared to inform them of its benefits and remember that the device is there for their safety and to teach them responsible driving behaviors. Learning this early on can save your teen from a DUI or harming him or herself or others on the road in the future.