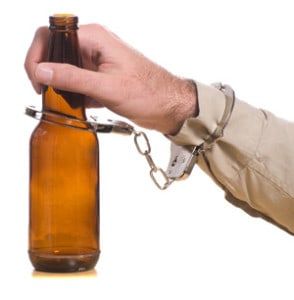 Maine's drunk drivers can expect to face tougher penalties as the state's new DUI law goes into effect today. The law's provisions include tougher penalties for the state's most dangerous DUI offenders and longer license suspension periods for all convicted drunk drivers.
Under Maine's drunk driving laws, a DUI becomes a felony when an offender commits a third offense or if a DUI offense results in the death or serious injury of another person. Under current law, these felony DUI convictions have a 10-year look back period. That means that when a drunk driver with a felony DUI conviction that's at least 10 years old is being charged with a new DUI offense, authorities can't use the felony conviction against the offender. The result? Such offenders are charged with a misdemeanor offense with lesser penalties.
The state's new DUI law, which goes into effect August 1, removes the look back period on felony DUI convictions. That means that felony DUI convictions will stay on offenders' records and any new DUI offenses will be considered felonies with harsher consequences.
The new law also increases the license suspension period for first-time DUI offenders from 90 days to 150 days and to three years for a second offense within 10 years. The suspension period increases to six years after three offenses and to eight years after four or more offenses.
While the legislation certainly strengthens Maine's DUI laws, its felony DUI provision has actually weakened since the original bill was introduced. In fact, Gov. Paul LePage vetoed the amended bill because he believes it doesn't go far enough. When first introduced to the Maine Legislature, the bill stated that all DUI convictions, including misdemeanors and felonies, should be considered in determining whether a new offense should be a felony. However, some lawmakers thought that would be too harsh.
Despite any weaknesses, Meaghan Maloney, district attorney for Kennebec and Somerset counties, told the Portland Press Herald that protecting the public from the state's worst DUI offenders is a step in the right direction, even if that pool of DUI offenders is a small one. According to the Maine Sunday Telegram, 720 people were convicted of drunk driving three or more times between 2003 and 2013.