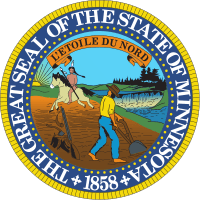 Lawmakers in Minnesota are considering a drunk driving-related bill that would toughen consequences for repeat DUI offenders convicted of criminal vehicular homicide. Drafted in memory of five-month-old Drake Bigler, who was killed in June 2012 when a repeat drunk driver crashed into the family vehicle, Drake's Law would increase the maximum prison sentence for criminal vehicular homicide from 10 years to 15 years. The law would only apply to drunk drivers with a prior DUI offense within the past 10 years and who also caused property damage or injury to another person.
Drake's parents, Southwest Minnesota State University basketball coach Brad Bigler and his wife, Heather, pushed for the creation of Drake's Law after the repeat drunk driver who killed their son received only a 4-year prison sentence, despite having a blood alcohol level four times the legal limit of 0.08 and two prior convictions (not including this one) in 12 years. With a maximum of 10 years of jail time for criminal vehicular homicide and 1 year for a third DUI offense, they didn't feel that 4 years was just.
The Biglers also believe that the consequences for repeat DUI offenders aren't strong enough to prevent convicted drunk drivers form repeating the offense. Second-time DUI offenders face the same fine amount and jail time as first-time offenders while ignition interlock installation for both first- and second-time offenders is voluntary in lieu of a driver's license suspension. While a third-time offender is required to install an interlock for 3 years, jail time is only 1 year, the same as the maximum for first and second offenses.
Drake's parents and supporters of the bill hope it will pass both to honor Drake and to prevent repeat drunk drivers from putting other families through the same experience.